Return to www.thanhouser.org
The Cry of the Children
James Cruze

,

as the father

,

looks heavenward as he holds the hand of his suffering young daughter. (The Moving Picture World, April 27, 1912).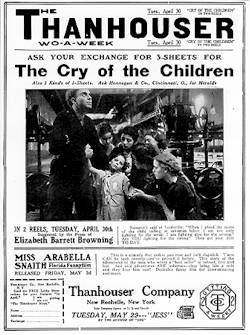 (Two reels, approx. 2,000 feet, released April 30, 1912)
Directed by George O. Nichols.
Photographed by Carl Louis Gregory.
Print source: George Eastman House, 28 minutes, 47 seconds
Cast: Marie Eline (Alice, the little girl), Ethel Wright (the working mother), James Cruze (the working father), Lila H. Chester (the factory owner's wife).
Original music composed and performed by Andrew Crow.
The Cry of the Children was selected in 2011 for inclusion on the National Film Registry by the National Film Preservation Board of the Library of Congress for its cultural, historical and aesthetic significance; read a critical analysis of this film and watch the documentary by Ned Thanhouser.



This film is available for purchase on The Thanhouser DVD Collection, Vol. 2.
The Cry of the Children is the most famous and best documented of all Thanhouser films. In its day it was recognized as one of the most important expressions of the pre-World War One reform movement, in particular child labor. Perhaps because the uncompromising content drew all the attention, the film was not then recognized as the artistic masterpiece it is. Read a critical review on this film on Facebook.
The title and basic outline of the scenario were taken from Elizabeth Barrett Browning's popular poem which was quoted in the intertitles. The antique sentimental quality of the poem contrasts sharply with the gritty realism of the visual images. Likewise, the story contrasts scenes of the mill owner's home life with that of the poor working family. An unsuccessful strike, poverty, death, and hardship threaten to tear the poor family apart.
Although location work was frequent in those days, the real factory setting was unusual and strikingly authentic. Dramatic depiction of the poor family is largely understated. The remarkably fluid editing foreshadows the editing style that became commonplace in the 1920's. Lap dissolves are used for psychological effect, and subtle and skillful camera tilting follows the actors. Excellent staging usually emphasizes depth and fore-to-back movement, and groups are handled well. Twice as long as most films of that period, the picture reflected Edwin Thanhouser's advocacy of "natural length" films rather than the standard one-reel film demanded by exhibitors for commercial reasons.
Although some elements of the story are melodramatic, clichés are to be expected from that era. However, the cinematic skill and social importance certainly contributed to a new social-realism style. The film marked the emerging political power of film, and the potential for making contributions to society.
This film Copyright © 2011 Thanhouser Company Film Preservation, Inc. All Rights Reserved.
---
Thanhouser Company Film Preservation, Inc.


Contact Us
Copyright © 1997 Thanhouser Company Film Preservation, Inc., All rights reserved.