Return to www.thanhouser.org

LONERGAN, Lloyd F.

Thanhouser Career: Scenario writer (1909-1917)

Lloyd F. Lonergan, Thanhouser's most prolific scenario writer. (Courtesy of Dominick Bruzzese)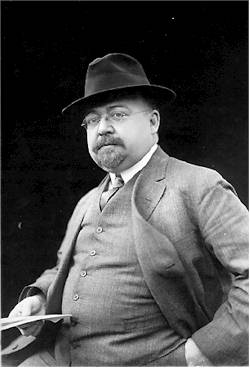 Thanhouser Career Synopsis: Lloyd F. Lonergan was with the Thanhouser company from the beginning until the end, except for one period of several months, and was the company's most prolific and important scenario writer.
Biographical Notes: Born in Chicago on March 3, 1870, Lloyd F. Lonergan was one of five children (four boys and a girl) of Thomas A. Lonergan, a newspaper publisher and editor, and Ellen A. Lonergan, a newspaper writer born in Ireland, who during his career was society editor for The Chicago Tribune and The New York World. All of the Lonergan children became newspaper writers.
Lloyd F. Lonergan was educated at the Annapolis Naval Academy. For many years he was a newspaper and magazine writer for the Hearst organization in Chicago and, later, New York. For seven years he was Albany correspondent for the Brooklyn Daily Eagle. In 1902 he was on the staff of The New York Evening Journal. While still working on a newspaper, The New York Evening World, he wrote scripts for Edwin Thanhouser in 1909 and 1910, including that for the first Thanhouser release, The Actor's Children (March 15, 1910), and most others for the first two years. He was married to Molly Homan, a sister of Edwin Thanhouser's wife.
When the Thanhouser Company was formed in 1909, and Lonergan began writing scenarios for it, he maintained his residence at 205 West 94th Street, New York City. Later, he and his wife moved to New Rochelle, and from 1913 through 1916 the couple lived in Beacon Hall, a large apartment building adjacent to Thanhouser's main studio. In 1917 the Lonergans relocated in the Pepperday Inn across the street.
A 1914 Sketch: The New Rochelle Pioneer, September 5, 1914, carried this sketch by John William Kellette: "Lloyd F. Lonergan, of Beacon Hall, is Chief of Production of the Thanhouser Corporation, and to Mr. Lonergan comes the laurel crown as the world's greatest scenario writer, he having 800 or more scripts to his credit, or an average of about 200 stories a year. This is a remarkable record, and everywhere in the screen field he is accorded the greatest writer that the game ever produced. But Mr. Lonergan takes his laurels with easy grace. He has shunned, rather than sought, publicity, and where he finds time to do the enormous amount of work that he does is a mystery, because he also grants some of his hours to lodge and charity work. He is Past Master of Manual Lodge, No. 636, Brooklyn, F. & A.M., and was elected to honorary membership in Huguenot Lodge, No. 46, F & A.M. In the New Rochelle Lodge of Elks, 756, he holds life membership. He has been a resident of New Rochelle almost five years. To be exact, in December 1909, Edwin Thanhouser, his brother-in-law, desiring a scenario editor, had Lloyd F. come on, and the 'City Beautiful' so charmed him that he has stayed ever since. He had newspaper connections with the New York World and New York Journal, and was a Hearst editor in his last connection, and from sentimental reasons alone, still continues as the New York correspondent of the Portland Oregonian, a paper of wide influence in the Northwest."
After Hite's Passing: After the death of Charles J. Hite in August 1914, there was a period of uncertainty at the Thanhouser Film Corporation. Lloyd F. Lonergan resigned from Thanhouser on November 28, 1914, and by the end of the following month had gone to Universal's Eastern studio to write scripts. His departure was duly noted in Variety, December 5, 1914: "Lloyd F. Lonergan, for three or four years general supervising director and chief of the scenario department of the Thanhouser picture company in New Rochelle, severed his connection Saturday last. Mrs. Lonergan retired from the employ of the company at the same time.
"Mr. Lonergan left the newspaper field in New York to become associated with Thanhouser at the behest of Edwin Thanhouser, when the company was in its infancy. He was a close and intimate friend of the late Charles J. Hite, president of the corporation, and who took over the Edwin Thanhouser interests. It is stated the cause of Mr. Lonergan's retirement from the company is that a new regime has become active in the management of the concern's plant since the death of Mr. Hite. There is a strong belief in film circles that Mr. Lonergan may be again associated with Edwin Thanhouser when the latter makes his re-entry into the active film producing field."
Welcome Back: The return of Edwin Thanhouser furnished the occasion for an article, primarily about Lloyd F. Lonergan, in the February 27, 1915 issue of The New Rochelle Pioneer: "Edwin Thanhouser's return to the local studio means much to the future of motion pictures, because, when Mr. Thanhouser selected New Rochelle as the seat of production, art appealed to him in its loudest phrases and Mr. Thanhouser proceeded to put upon the screen photoplays that were paramount to anything produced up to that time. He devoted every moment of his time in this city to producing perfect pictures—perfect in story, perfect in construction and perfect in scenery, and then came a well deserved rest, when Mr. Thanhouser and his charming family traveled extensively abroad. That he came back to his first love was glad news to New Rochelleans, first, but particularly encouraging to the 20,000,000 fans throughout the country, for it means greater things in the future for Thanhouser pictures—pictures that we have all come to love and enjoy.
"Colman once wrote: 'And on their own merits modest men are dumb.' And, with Mr. Thanhouser's return, so returneth Lloyd F. Lonergan—champion scenario writer of the world. Yet, had eyesight, along in the late 80s, been good, Lloyd F., the creator of The Million Dollar Mystery, might never have written a scenario, because he would now be one of Uncle Sam's sea fighters and epaulets, gold braid and an international standing by reason of his entrance into naval affairs at Annapolis, Md., after winning his way through a long list of candidates in a competitive examination. Chalk up something good against bad eyesight, because Lonergan as an author has done the world more good than would Lonergan as a sea fighter."
His Later Work: The New Rochelle Paragraph, June 4, 1915, told of an unfortunate incident: "Lloyd Lonergan, the premier scenario writer, of Thanhouser Film Corp., is lying injured at the Ear and Eye Hospital of New York, as a result of being assaulted by robbers with a blackjack, Sunday night, at about 11 o'clock. Mr. Lonergan, was coming from the Elks' Club when three robbers came up at 43rd street and Sixth Avenue, and demanded that he give up his valuables. Mr. Lonergan put up a fight before the blackjack was used upon him. The robbers took $200 in cash which Lonergan had on his person; his valuable watch, a presentation from newspaper men upon his retirement from the newspaper game; a diamond ring valued at $300, and a Masonic signet ring. Mr. Lonergan's condition is not serious, although it is feared that a piece of glass is in his eye."
From 1915 through 1917 Lonergan wrote many more scenarios for the Thanhouser Film Corporation. In late summer 1917, when the business at the Thanhouser studio was being phased out, he announced his retirement.
Later Years: On September 1, 1917, Lonergan retired from Thanhouser, which was then virtually out of business, and announced that he was going to Cape May, New Jersey for a needed rest. However, in November 1917 he was back in New Rochelle, where he edited The Million Dollar Mystery from 46 reels to six, for reissue in 1918 by the Arrow Film Corporation. In later years, Lloyd F. Lonergan wrote scenarios for others, including the 1920 releases of A Common Level (Transatlantic Film), Neglected Wives (Wistaria Productions), Why Women Sin (Wistaria Productions), and My Lady's Garter (Maurice Tourneur Productions).
The Lonergans had no children, although one pregnancy ended in stillbirth. Lloyd was afflicted with a brittle bone syndrome which restricted his movement and which was the cause of frequent fractures and injuries. Lloyd F. Lonergan died in New York City on April 6, 1937.
Use the browser's back button to return to previous page.
---
Thanhouser Company Film Preservation, Inc.


Contact Us
Copyright © 1988-1993 Q. David Bowers, All rights reserved.