| | | |
| --- | --- | --- |
| Return to www.thanhouser.org | The Vicar of Wakefield (1917) | Frederick Warde in a publicity photograph published in Reel Life. (Courtesy of Bebe Bergsten) |
(Eight reels, released February 25, 1917)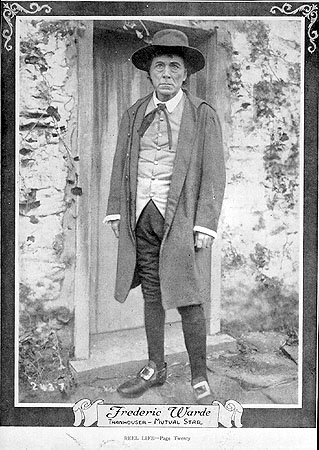 Directed by Ernest C. Warde. Scenario by Emmett Mix, based on the novel by Oliver Goldsmith. Photographed by William M. Zollinger.
Print source: Em Gee Film Library, 1 hour, 29 minutes, 30 seconds.
Cast: Frederick Warde (the Vicar of Wakefield), Boyd Marshall (George Primrose), Kathryn Adams (Olivia Primrose), Gladys Leslie (Sophia Primrose), Thomas A. Curran (Geoffrey; Mr. Burchell), Robert Vaughn (Squire Thornhill; Squire Wilmot), Carey L. Hastings (Mrs. Primrose), William Parke, Jr. (Moses Primrose), Tula Belle (Dick Primrose), Barbara Howard (Bill Primrose), Grace DeCarlton (Arabella Wilmot), Arthur Bauer (Mr. Wilmot), Morgan Jones (Jenkinson), Joseph H. Phillips, Nellie Parker Spaulding, Oscar W. Forster.
Original music composed and performed by Raymond A. Brubacker.
After affiliating with Pathé in late 1916, Thanhouser produced only feature-length dramas. In 1917 the studio had a roster of only four stars, none of them a commercial match for the personality-stars created by the publicity machines of other studios. Frederick Warde, like his Thanhouser colleague Jeanne Eagels, was one of the most talented and famous stage actors in New York City, and was the perfect choice for the popular title character of the 1766 English novel. The production vindicated the new feature-length movie format by restoring several characters, plot complications, and atmosphere that had been truncated in Thanhouser's 1910 version of less than one-sixth the length.
Warde, forgotten today, was best known for his classic stage work, but starred in several films including the title role in Richard III in 1912, the first American feature film (not a Thanhouser production). The director, Ernest C. Warde, is the star's son.
The elaborate production required several months to produce, working around Warde's busy Chautauqua lecture schedule, and includes incidents vividly remembered by the novel's readers, such as the green spectacles, the debtor's prison, the sham marriage, and the burning of the vicarage.
This film Copyright © 2011 Thanhouser Company Film Preservation, Inc. All Rights Reserved.
---
Thanhouser Company Film Preservation, Inc.


Contact Us
Copyright © 2000 Thanhouser Company Film Preservation, Inc., All rights reserved.