| | | |
| --- | --- | --- |
| Return to www.thanhouser.org | The Vicar of Wakefield (1910) | Poster Image Courtesy Thanhouser Company Film Preservaion, Inc. |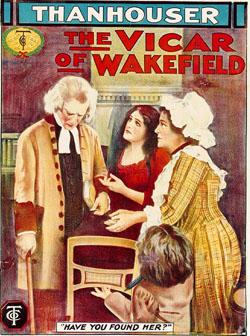 (One reel of approximately 1,000 feet, released December 17, 1910

Print source: Nederlands Filmmuseum, 13 minutes 20 seconds

.


Adapted from the novel by Oliver Goldsmith. Cast: Martin J. Faust (the Vicar of Wakefield), Frank H. Crane, Anna Rosemond, William Garwood, Marie Eline, Bertha Blanchard, Lucille Younge, William Russell.

Original music composed and performed by Raymond A. Brubacker.

Edwin Thanhouser, and Lloyd F. Lonergan who wrote or supervised screenplays for hundreds of Thanhouser films, often turned to classic plays and novels for quality source material. The Vicar of Wakefield was an enormously popular English novel for 150 years, offering a complex but accessible mix of Georgian English characters, situations, mores and manners. All this had to be simplified and distilled down to one reel of story, which was done better by Thanhouser than any other studio could have done.

In 1910 virtually all movies were developed in the director's mind, improvised during filming, and made into a narrative by the film editor. Theater veteran Edwin Thanhouser and journalist Lloyd Lonergan were possibly the first movie professionals to begin each new production with a complete screenplay (which they called a "continuity"). Within a year after its first release, the studio had a reputation for the best-developed stories in the business. Also contributing was Gertrude (Mrs. Edwin) Thanhouser who helped on the scenarios and film editing.

Edwin Thanhouser re-made The Vicar of Wakefield in 1917 as a eight-reel feature film providing us with a frame of reference for the maturation of film language and cinematic techniques over the ensuing eight year period.

The studio logo (TCo) appears prominently throughout the film. That was one way to protect ownership in those days before film could be copyrighted.

This film Copyright © 2011 Thanhouser Company Film Preservation, Inc. All Rights Reserved.
---
Thanhouser Company Film Preservation, Inc.


Contact Us
Copyright © 2000 Thanhouser Company Film Preservation, Inc., All rights reserved.