| | | |
| --- | --- | --- |
| Return to www.thanhouser.org | The Star of Bethlehem | THE STAR OF BETHLEHEM (December 24, 1912). This three-reel production, said to have cost $8,000 to stage, featured a cast of approximately 200 people. In this scene, King Herod (William Russell) gestures to Mary (Florence LaBadie) and Joseph (James Cruze). |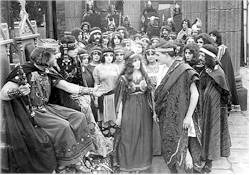 (One reel, released December 24, 1912)
Directed by Lawrence Marston. Production supervised by Edwin Thanhouser. Scenario by Lloyd F. Lonergan. Original length three reels (3,000 feet); surviving version edited to one real (1,000 feet)
Print source: British Film Institute, 15 minutes, 13 seconds.
Cast: Florence LaBadie (Mary), James Cruze (Micah, Joseph), William Russell (Herod), Harry Benham (Angel Gabriel), Justus D. Barnes (Gaspar, one of the Magi), Charles Horan (Melchior, one of the Magi), Riley Chamberlin (Balthasar, one of the Magi), Harry Marks (scribe), N. S. Woods (scribe), Lawrence Merton (scribe), David H. Thompson (Pharisee, rabbi), Lew Woods (Pharisee, scribe), Joseph Graybill (Roman messenger), Carl LeViness (shepherd), Frank Grimmer (shepherd), Ethyle Cooke; total cast of 200 persons.
Original organ score composed and performed by musician Andrew Crow.
Biblical tale about the birth of Christ told with a cast of 100's.
Thanhouser's ambitious Star of Bethlehem was one of the first steps toward true feature-length films (more than two reels long). It appeared the year before the Italian epic Quo Vadis? was viewed in the U. S., and two years before the first Hollywood feature, The Squaw Man. The original negatives were destroyed in the Thanhouser studio fire just three weeks after its first release.
Preparation of this epic was one of the last duties of Edwin Thanhouser before leaving the studio that bore his name. He had sold it to Mutual in April of 1912 and continued to work as studio manager until he "retired" in November, 1912, only to return in 1915. Thanhouser's biggest production up to that point in time, the film required a one-month shooting schedule, employed a cast of 200 (including forty principals), and cost a hefty $8,000. Special effects alone took a full week's work.
Thanhouser studio's flair for sumptuous costumes, crowds of actors, and rich staging is evident in this epic. Some of the larger scenes reportedly were filmed with two or even three cameras shooting from different angles. The ratio of two-and-a-half feet of film exposed per foot of film used is modest by today's standards, but was extravagant for 1912.
This film Copyright © 2011 Thanhouser Company Film Preservation, Inc. All Rights Reserved.
---
Thanhouser Company Film Preservation, Inc.


Contact Us
Copyright © 1997 Thanhouser Company Film Preservation, Inc., All rights reserved.